Foundation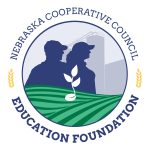 The NCC Education Foundation was established in 2000 under Section 501(c)(3) of the Internal Revenue Code. The mission of the Foundation is to enhance the educational offerings to the cooperative and agribusiness industry. Education has always been one of the core values of the cooperative movement, and through the Foundation we will be able to enrich the ongoing education programs and develop new programs as the need arises. Specific charitable uses of Foundation funds will be to provide funding for:
Scholarship programs for high school graduates to continue their education at Nebraska post-secondary institutions that provide agribusiness management programs.
Continuing education programs for local cooperative directors and employees.
Youth education programs for projects such as curriculum development or cooperative day camps. In the past, we have provided curriculum materials to all high school Ag Education programs in the state. We need to update these materials periodically as new information becomes accessible.
Travel/study scholarships for cooperative employees to attend programs such as the Graduate Institute of Cooperative Leadership (GICL).
Intern scholarships to allow students to explore cooperative career opportunities and conduct research projects for cooperatives. These programs will allow students to gain an understanding of career options in the cooperative industry through hands-on work/study experiences.
Special educational projects that would enhance the cooperative movement in the state. An example would be the Cooperative Recruitment Project that was completed in 2003. This project was designed to help identify, educate, and train individuals that would allow Nebraska's farmer-owned cooperatives to recruit a new generation of employees.
The Foundation is governed by a 5-member Board of Directors: [as of 1.1.22]
Gerald Schmidt of Janssen [Chair]
Chris Cullan of Hemingford [Vice Chair]
John Oehlerking of Elmwood
Deino Sather of Elkhorn
Dave Thomson of Lincoln